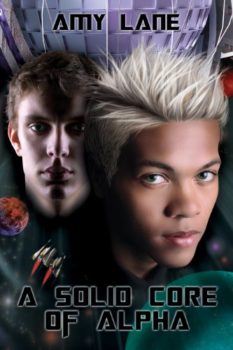 August 8, 2011
Dreamspinner Press
ISBN-10: 1613721420
ISBN-13: 9781613721421
Science Fiction / FantasyParanormal
Available in: Paperback, Audio, e-Book
A Solid Core of Alpha
In an act of heroism and self-sacrifice, Anderson Rawn's sister saved him from the destruction of their tiny mining colony, but her actions condemned the thirteen-year-old to ten years of crushing loneliness on the hyperspace journey to a new home. Using electronics and desperation, Anderson creates a family to keep him company, but family isn't always a blessing.
When Anderson finally arrives, C.J. Poulson greets him with curiosity and awe, because anyone who can survive a holocaust and reinvent holo-science is going to be a legend and right up C.J.'s alley. But the more C.J. investigates how Anderson endured the last ten years, the deeper he is drawn into a truly dangerous fantasy, one that offers the key to Anderson's salvation-and his destruction.
In spite of his best intentions, C.J. can't resist the terribly seductive Anderson. Their attraction threatens to destroy them, because the heart of a man who can survive the destruction of his people and retain his sense of self holds a solid core of alpha male that will not be denied.