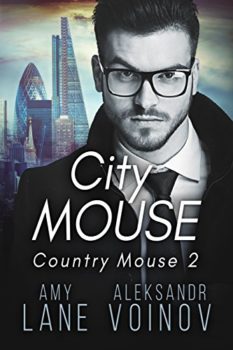 Country Mouse / City Mouse #2
May 22, 2018
44 Raccoons
Light Romance
Available in: e-Book
City Mouse
A magical weekend, a breathless declaration, a happy ever after … Right?
Wrong.
When Malcolm Kavanagh took his first step toward emotional maturity by declaring his love to Owen Watson, that was just the first chapter in their story. Anyone who's ever been in love knows that happy endings take a lot more work than that.
One problem: Malcolm has never been in love. He doesn't know the rules of a relationship and isn't confident enough to trust that his is real. He learns the ropes by sharing his life and his flat with Owen, but relationship boot camp proves a challenge. Everything is a struggle, from accepting Owen's low-status job to putting his boyfriend above his personal trainer.
Luckily, Owen knows a little more about relationships and labors patiently to survive the first six weeks of their life together. From the art galleries of Cambridge to the tawdry majesty of the Dominion theatre, Owen adapts to England while Malcolm adapts to the whole human race. Maybe, if Owen is patient enough and Malcolm learns to give, the two of them can make it past Relationship Armageddon to a real happy ending.
City Mouse is the sequel to Country Mouse and has been previously published.