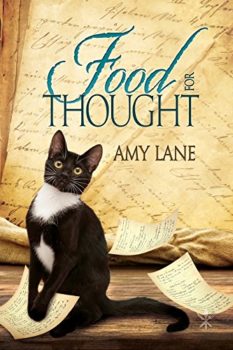 Tales of the Curious Cookbook #2
April 8, 2015
Dreamspinner Press
Light Romance
Available in: Audio, e-Book
Food for Thought
A Tale of the Curious Cookbook
Emmett Gant was planning to tell his father something really important one Sunday morning—but his father passed away first. Now, nearly three years later, Emmett can't seem to clear up who he should be with—the girl with the apple cheeks and the awesome family, or his snarky neighbor, Keegan, who never sees his family but who makes Emmett really happy just by coming over to chat.
Emmett needs clarity.
Fortunately for Emmett, his best friend's mom has a cookbook that promises to give Emmett insight and good food, and Emmett is intrigued. After the cookbook follows him home, Emmett and Keegan decide to make the recipe "For Clarity," and what ensues is both very clear—and a little surprising, especially to Emmett's girlfriend. Emmett is going to have to think hard about his past and the really important thing he forgot to tell his father if he wants to get the recipe for love just right.