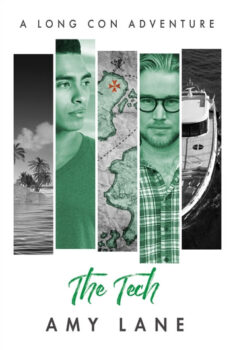 Long Con Adventure #5
January 10, 2023
Dreamspinner Press
Romantic SuspenseAction / AdventureLight Romance
Available in: e-Book, Trade Size
The Tech
Can two quiet con men who lost their childhoods find their places as a part of a family—and with each other?
Ever since he watched his father die, Etienne Couvier has kept to himself. Under the tutelage of his adoptive family, the Salingers, Tienne grows into a gifted forger and artist. But no matter how hard they try to draw him into their midst—and despite the singular pull their friend Stirling Christopher has on his emotions—he resists.
When computer tech Stirling lost his foster parents, he found shelter and love with the Salingers. Stirling knows firsthand what Tienne has been through, so when an attacker shatters Tienne's self-imposed isolation, Stirling urges him into the Salinger crew. Maybe they can finally explore the quiet attraction between them.
Then the Salingers announce their next project: an inquest into the mysterious deaths of Stirling's adoptive parents. They descend on the Caribbean for answers, with Stirling and Tienne the quiet centers of the human justice-seeking hurricane. As they stretch out of their comfort zones, they learn that being family means someone always has your back. Hand in hand, they'll solve the mystery. They might even be able to live with the consequences—as long as they do it together.
Amy Lane's Long Con series follows a crew of civic-minded thieves on their quests for justice, adventure, and love. Fans ofLeverage, heist movies, and romantic suspense will loveThe Tech.