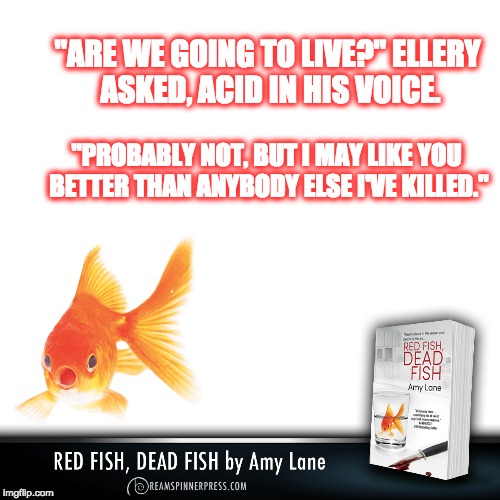 So, Fish, book two, is on its way out, and I'm both excited and scared. I love romantic suspense–particularly series with the same people in them, and that's what I set out to write. With J.D. Robb and Kathy Reichs as my original inspiration, as well as countless urban fantasy series to guide me, I wanted the same two people, solving crimes and trying to get each other. Jackson and Ellery are the result, and I sort of love them very much a lot.
Ellery is the product of wealthy parents in a socially conservative setting. His politics are liberal–but he's prep-school educated, by two strong people (although we have yet to meet his father), and was groomed to be ruthless, ambitious and to adhere to the strict social norms that make up a society.
Jackson is the son of a junkie. He grew up in the shit part of town, fought his way through school into the police academy and was betrayed there by a crooked system he risked himself to fix. The only saving graces in his life are Jade and Kaden Cameron, whose mother took him in as a kid, and a battered tomcat who thinks he walks on water.
Until Jackson and Ellery are finally forced to work together in the first book, Fish Out of Water, that is.


The second book, Red Fish, Dead Fish, finds our heroes after a couple of months of cohabitation–and Jackson is positive that the good thing that he and Ellery have become can't last. He doesn't want to leave Ellery's nice house on American River Drive, but he's reasonably sure Ellery will throw him out on his ear anyway, because why is a guy like Ellery Cramer putting up with Jackson Rivers anyway?
Fate–and a loose end from the first book–throw a grenade into this tenuous situation, and Ellery and Jackson are put to the test.
And the wringer.
I've got to admit, I didn't pull many punches in this book. Jackson is raw and bleeding (literally through a lot of it) through most of the book, and Ellery is frantic. He's in love with Jackson, although he's been too cautious to say it, and suddenly Jackson is doing everything he can not to go off the deep end. Ellery doesn't know how to stop him–he's just got to be there to pick up the pieces when they land.
Reading reviews is a trip for this one–some people say it has no angst and some people say it's code-black. Some people are highly satisfied with the mystery and some people just want to see Jackson and Ellery fight and fuck and learn how to function.
I have to say–I like the mix of the two.
Yes–sometimes I write the basic sweet romance. The Dreamspun Desires are those for me. Sweet. Not a lot of plot–just enough to make it interesting.
But Fish? Fish is plot and irony and a helluva lot of fun.
I have a couple of promotional gigs for this book–one of them being a FB takeover for DSP this weekend, August 4th-6th. If you have any questions at all, go to the Dreamreaders Group and ask me any questions you want. If you want to submit a question for Naomi to ask me, go to THIS LINK and fill out the form, or just come and chat!
The other thing I have going is my blog tour, in which I did something different! Instead of going to blogs and talking about myself, I talked about some writers I read and who write romantic suspense in a lot of different forms. I had a whole lot of fun doing this, and you may want to check it out–some of the writers may be new to you and I'd love it if you found new authors because they got a spotlight for Fish!
OH! And did I mention Fish Out of Water is on sale, both at amazon AND on the DSP site? So if you haven't read the first one, now is the PERFECT time to pick up the second one!


Phew– so I'll post the blog tour below, with some of the links and more as they become active, and in the meantime–for all of you romantic suspense lovers out there, this series is for you!

Red Fish, Dead Fish
by Amy Lane


They must work together to stop a psychopath—and save each other.


Two months ago Jackson Rivers got shot while trying to save Ellery Cramer's life. Not only is Jackson still suffering from his wounds, the triggerman remains at large—and the body count is mounting.


Jackson and Ellery have been trying to track down Tim Owens since Jackson got out of the hospital, but Owens's time as a member of the department makes the DA reluctant to turn over any stones. When Owens starts going after people Jackson knows, Ellery's instincts hit red alert. Hurt in a scuffle with drug-dealing squatters and trying damned hard not to grieve for a childhood spent in hell, Jackson is weak and vulnerable when Owens strikes.


Jackson gets away, but the fallout from the encounter might kill him. It's not doing Ellery any favors either. When a police detective is abducted—and Jackson and Ellery hold the key to finding her—Ellery finds out exactly what he's made of. He's not the corporate shark who believes in winning at all costs; he's the frightened lover trying to keep the man he cares for from self-destructing in his own valor.

by Amy Lane


PI Jackson Rivers grew up on the mean streets of Del Paso Heights—and he doesn't trust cops, even though he was one. When the man he thinks of as his brother is accused of killing a police officer in an obviously doctored crime, Jackson will move heaven and earth to keep Kaden and his family safe.


Defense attorney Ellery Cramer grew up with the proverbial silver spoon in his mouth, but that hasn't stopped him from crushing on street-smart, swaggering Jackson Rivers for the past six years. But when Jackson asks for his help defending Kaden Cameron, Ellery is out of his depth—and not just with guarded, prickly Jackson. Kaden wasn't just framed, he was framed by crooked cops, and the conspiracy goes higher than Ellery dares reach—and deep into Jackson's troubled past.


Both men are soon enmeshed in the mystery of who killed the cop in the minimart, and engaged in a race against time to clear Kaden's name. But when the mystery is solved and the bullets stop flying, they'll have to deal with their personal complications… and an attraction that's spiraled out of control.





Blog Tour



August 10 – The Novel Approach Tere Michaels
August 11–Grave Tells Melinda Leigh, encore.